Logistics Considerations for Moving Manufacturing to Mexico
02.17.22
When manufacturing in Mexico, foreign companies often choose to work with a shelter operation to help ease the transition and create a seamless setup in a timely manner. A shelter takes on all administrative areas, including border crossing logistics, which allows manufacturers to focus on production.
Here's an overview of how logistics work and how to leverage the expertise of a shelter services company.
The Value of a Dedicated Imports/Exports Team
Foreign manufacturers setting up operations in Mexico don't have to be compliance experts when a shelter company is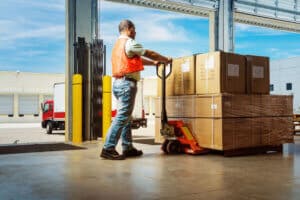 involved. IVEMSA serves as the import/export team coordinating the where, when, and how of logistics with dedicated personnel handling all inspections, paperwork, and communication with brokers.
Where: Distribution to the U.S.
Companies manufacturing in Mexico ship inventory to a U.S. warehouse at the border, which is located near the commercial port of entry. They must supply detailed information about items being shipped and targeted delivery dates. Meanwhile, IVEMSA coordinates consolidation (if necessary), schedules trucking companies, and manages other logistical factors to ensure shipments meet compliance and are delivered according to plan.
When: Same-Day Imports
Typically, one or two truckloads can be fully inspected with completed paperwork and ready to cross the U.S./Mexico border on the same day. The greater the visibility and organization provided upfront from the manufacturer, the easier it is for IVEMSA to schedule transportation pick-ups and secure the most efficient delivery.
Keep in mind, Mexico manufacturing in the border region often equals same-day imports arriving at the plant. However, operations located inland or central have to account for drive time, between 12 and 18 hours, before reaching the border, although the truck can cross on the same day it arrives.
Read more: Is Mexico still competitive for manufacturing costs?
How: Tracking Technology and Communication
Since each transportation company maintains its own tracking system, the customer can provide IVEMSA access to their chosen platform to monitor progress. The manufacturer then still receives automated emails with entry time, specifications including bill of lading, and other pertinent information to keep track of when trucks enter and exit the warehouse. However, when there are questions beyond the automated alerts, IVEMSA initiates communication with the transportation team to handle any potential delays and keep the distribution as seamless as possible.
Benefiting from the Experience of a Shelter Company
There are many moving parts when it comes to efficiently handling logistics, especially for those who are new at manufacturing in Mexico. Fortunately, by partnering with a shelter company like IVEMSA, foreign companies can take advantage of over 40 years of built-in knowledge and experience with their comprehensive service solution. Manufacturers maintain complete production control while IVEMSA handles all the administrative tasks to get an operation up and running.
In addition to customs compliance, manufacturers have the advantage of working under IVEMSA's maquiladora licenses, which exempts them from the 16% VAT tax applied to temporarily imported goods, machinery, and equipment. IVEMSA also provides HR, tax, and accounting services and ensures all permits and licenses are in place to comply with Mexican laws and regulations. The shelter solution is customized for each company to meet their specific needs and goals.
Read more: 3 advantages of manufacturing in Mexico.
Looking for more information on how your company can expand manufacturing to Mexico? Schedule a chat with our team today.