Understanding the Basics of Labor Contracts in Mexico
10.02.19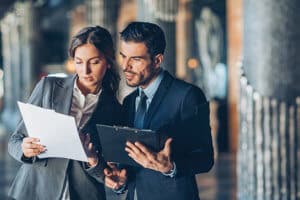 On November 30, 2012, amendments were made to Mexico's Federal Labor Law (FLL). These define the types of labor contracts to be used by employers for their workers. It is the highest labor law in Mexico and has shaped an employer's obligation to its employees with regard to salary payment.
Articles per the FLL outline the definition of labor relations and what is allowed based on job status. It also speaks to the kind of allowable working conditions and how to make a contract between an employer and employee an official legal document. For example, Article 24 states that employers must document working conditions in writing and provide at least two copies of the labor contract to be distributed to each party. Article 35 states that labor relations can apply to jobs of any length of time whether it is seasonal, a trial period, or indefinitely.
As U.S. manufacturers and other foreign companies continue to look to Mexico as an operational hub for its supply chain, it's important they know the facts and implications for what's required (and expected) regarding Mexican labor contracts and workforce.
Labor Contracts for Seasonal Employees
Article 39-F includes a provision that identifies labor contracts with employees for an indefinite time as automatically continuous. Even if the work is seasonal and there is a proposed end date range, under this type of labor contract, workers maintain the same rights as those employed under an indefinite contract, meaning their contact may resume.
Read more: The basics of severance laws in Mexico.
Labor Contracts for Training and Trial Periods
Training contracts are for a maximum of three months unless it is for a managerial position, which follows a training period for up to six months. For this type of labor contract, consecutive contracts cannot be used. When the initial training period ends, it's then considered employment is for an indefinite time period.
A trial work period in Mexico is between 30 and 180 days for both technical and administrative positions. Beyond this probationary period, if the employer does not wish to continue the work relationship, the employer must dismiss the worker through Mexico's Training and Productivity Commission.
Labor Contracts for an Indefinite Length of Time
This type of labor contract is necessary for an employer/employee work relationship that goes beyond the training period. During this time, it's determined whether the worker can meet the demands and skill level necessary for the work that's been requested. In the instance that a person is temporarily replacing another worker, a specific time period is required (depending on the type of work provided).
Read more: Getting started with HR in Mexico.
Understanding labor contracts and the rights of employees is important for HR representatives to understand when they begin the hiring process in Mexico. There is protection for employees that includes these differences in contracts as well as the regulations for termination. It's critical to be well-versed in all aspects of HR before starting operations in Mexico to avoid negative repercussions including fines.
Working with a shelter provider that's experienced in all areas of what's required to set up a maquiladora in Mexico reduces the risk of violating labor contracts as well as other compliance issues.
For more information about hiring practices in Mexico and other shelter services, contact IVEMSA today.