4 Factors to Consider When Evaluating Industrial Real Estate in Mexico
02.05.21
Evaluating industrial real estate options is the first and one of the most crucial steps when manufacturing in Mexico. Although manufacturers have the option to lease or buy, most opt for leasing. This choice provides increased flexibility with regards to location, space availability, and rates. It also offers move-in ready options or the opportunity to customize the space per a company's specific needs.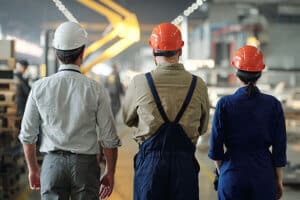 Here are four factors to consider when searching for industrial real estate to ensure you choose a facility best suited for you.
Selecting a Region
First, selecting a region helps narrow down the search for property. The highest leasing prices are found in areas closest to the border since competitiveness is high due to the favorable proximity. Exploring further into Mexico provides a wider range of building layouts and benefits to choose from in other well-established industrial areas.
Creating a Budget
Second, creating a budget is important when comparing industrial building rates in various areas. Each region has different costs and lease terms. In general, prices can range from $0.42 to $0.60 per square footage per month for a Class A building depending on the area you choose. Knowing an estimated range of rates you'd like to stick with can help narrow down certain cities and facilities.
Reviewing Tenant Responsibilities
Third, some leases automatically cover maintenance and repairs, while others pass that responsibility on to the tenant. Confirm which monthly and one-time expenses are included and which you'll be responsible to pay out of pocket. This includes any potential renovations or expansions planned for the space. Lock in rates and details regarding these plans as you continue your search.
Scheduling Site Tours
Lastly, after you've secured a region, budget, and an idea of how you'll use the space for the duration of the lease, it's time to plan site tours. These give you a feel for the space and area, as well as determine proximity to main transportation and workforce availability. With in-person travel currently limited, you can schedule a live online tour and request photos and videos to view various spaces before narrowing down the options to a chosen few.
Streamlining the Site Selection Process
For manufacturers new to operating in Mexico, it may be challenging to know where to get started when it comes to choosing the right industrial real estate. To help streamline the process, IVEMSA can create a site selection analysis. This thoroughly breaks down several data points necessary to make an informed decision.
It will include building square footage, facility layout options, and pros and cons of the area and space. Part of the analysis will also include a report including labor and operational expenses and how they compare to other cities. Since we perform the necessary research of key areas based on the specific requirements you need, this saves on time and costs as you move forward with operations.
To get more information about a region you already have in mind or learn more about our customized site selection solutions, contact us today.