A CEO's Look at Mexico's Maquiladora Program (IMMEX Program)
10.20.22
Maquiladoras in Mexico date back to the 1960s when the original iteration of the IMMEX program was formed. Since then, the maquiladora program has grown substantially and become a cornerstone of North American manufacturing. However, every year there are new economic shifts and manufacturing trends to evaluate and determine what the next steps will be.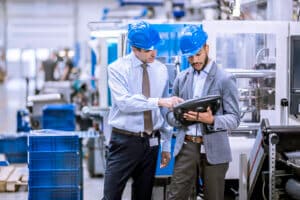 Overall, CEOs agree the North American trading block is going to be increasingly relevant in the near future and over the course of long-term business strategies. Manufacturing leaders want less reliance on China due to a lack of security measures, supply chain delays, and retaliatory tariffs. As a result, many companies previously operating in China have already set their goals on manufacturing in Mexico, which also allows them to also benefit from cost savings and proximity advantages.
The recently held North Capital Forum touched on several current topics manufacturing leaders are facing today. With over 500 participants and 23 panels, the three-day event was designed to focus on North America's main manufacturing challenges and create mutually beneficial solutions. Among the many areas of discussion included the energy sector across North America, reshoring the semiconductor industry, and access to industrial talent.
Energy Sector Across North America
When the USMCA was officially enacted, there was considerable discussion about the original content rules and their benefits for the automotive industry in North America. However, the recent focus has been on the trade agreement's energy trade framework. It outlines specific provisions including:
Zero tariff trade in energy products to maintain the free flow of energy across North American borders
Locks in Mexico's historic energy reforms for U.S. investors and service suppliers
Flexibilities of rules of origin requirements for oil and gas moving between the U.S., Mexico, and Canada
The adherence to these policies is intended to bolster North American competitiveness and reduce reliance on energy imports from outside regions. Though there have been recent reform proposals in Mexico that appear contradictory to the USMCA, there is a process in place to help resolve any disagreements. Plus, it remains to be seen what the final actions will be and how they'll affect energy trade among the three countries.
Reshoring the Semiconductor Industry
With U.S. manufacturing leaders wanting less dependence on trade operations in China, reshoring the semiconductor industry to North America is top of mind. Companies are evaluating safer, more secure places to operate in the future and rising challenges with China don't provide the level of stability necessary to plan long-term.
There are already many elements of semiconductor supply chains and maquiladoras established in Mexico, particularly Sonora, which is a leader in lithium and electric vehicle production. There's also been a push from the U.S. administration to invest in the integration of semiconductor production of electric vehicles in Mexico. This investment would provide $28 billion in incentives for semiconductor production, $11 billion for research and development, and $10 billion for new chip manufacturing.
Access to Industrial Talent
The U.S. has experienced a significant strain on its industrial labor force over the past few years. The older generation of trade workers has begun to retire, and the younger generation is seeking employment in other areas. The skill set and experience needed for manufacturing positions aren't as readily available. Whereas, Mexico has continuously invested in educating, training, and growing a strong industrial workforce and offers a cost-effective pay rate when compared to the U.S.
Furthermore, in many cases, the U.S. does not have the space to fulfill its rapidly growing manufacturing needs. As a result, an increasing number of U.S. and other foreign manufacturers are seeking the benefits of Mexico's labor force and are expanding to other parts of the country beyond the U.S./Mexico border into industrial hubs like Merida and Puebla. Working with a shelter company like IVEMSA provides due diligence in site selection, factoring in the specific sector, the amount of labor needed for the project, and other unique factors to create the best opportunity.
Read more: A typical timeline for moving manufacturing to Mexico.
Partnering with a Shelter
Most CEOs choose to work with a shelter when manufacturing in Mexico, whether it's solely for site selection or to take advantage of the full suite of services necessary to start production. This strategy reduces operating costs, minimizes risk and liability, and allows companies to maintain complete production control. Additionally, as part of the IMMEX program, IVEMSA already has the required permits and certifications in place, which saves companies time and costs to get started.
Manufacturing leaders can expect a three- to four-month startup period, as well as expert insight to help guide business decisions and pave the way for success. The IMMEX maquiladora program has benefited U.S. and other foreign manufacturers for decades and will continue to support economic growth.
At IVEMSA, we've helped companies with their manufacturing goals for nearly 40 years. With a 15-year average customer retention rate, we develop true partnerships and help leaders determine what's best for their business.
Want to learn how we can help your manufacturing growth? Contact us today.
Sources:
https://www.northcapitalforum.com/about
https://ustr.gov/sites/default/files/files/Press/fs/USMCA/USMCA-Energy.pdf
https://abcnews.go.com/International/wireStory/us-invites-mexico-join-semiconductor-production-effort-89773098