Establishing the Basics of Manufacturing in Mexico
08.30.22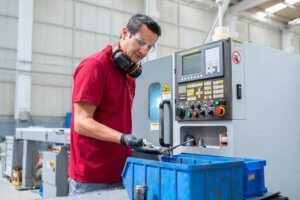 In 1964, Mexico created its maquiladora program which lets foreign-owned companies establish factories in Mexico. For decades, global manufacturers have invested in the program to grow their companies and product offerings at a cheaper, more efficient rate. As of 2021, the U.S. is Mexico's number one source of foreign direct investment with $100.9 billion USD.
The majority of maquiladoras are situated close to the border region of Mexico, allowing for quicker-to-market strategies and collaborative processes for manufacturers in the U.S. This is where research and development are typically maintained while production is completed in Mexico, where labor wages are less expensive and there's an industrial workforce in place to meet pressing deadlines.
For those manufacturing in Mexico for the first time, the most popular route is to work with a shelter provider. A shelter provider handles all administrative tasks needed to operate as a foreign entity. This frees up time for companies to focus on production while also minimizing their exposure and reducing their learning curve. The initial steps when getting started include site selection, obtaining permits and certifications, and recruiting and hiring the workers needed for the project.
Site Selection
Site selection is the first priority when manufacturing in Mexico. A shelter provider creates an analysis of viable sites in Mexico to help narrow down building choices and determine where best to set up operations according to project specifications.
Setting up operations along the border of Mexico equals same-day delivery for many parts of the U.S., which also results in less expensive freight costs. However, even when manufacturers set up in other regions, the close proximity between the U.S. and Mexico is still advantageous compared to manufacturing in China.
Permits and Certifications
Once site selection is established, there are several permits and certifications required to operate as a foreign company in Mexico. As part of the IMMEX maquiladora program, foreign manufacturers are exempt from the 16% VAT on temporarily imported goods, materials, and equipment. Because of this, it saves time and money starting from the first day of production when working with a shelter since these are already in place.
An experienced shelter service operator also has the experience and business connections to streamline the process and make it more efficient to get up and running. The average timeline for a foreign manufacturing company to set up operations with a shelter is three to four months versus six to seven months when establishing a presence as a standalone entity.
Recruiting and Hiring
Mexico heavily invests in industrial education and training, which delivers a consistent pool of talent available for projects. This is particularly helpful as the U.S. faces a manufacturing labor shortage due to baby boomer workers entering retirement and a young generation of employees seeking opportunities in other industries.
A shelter handles all recruiting and hiring and helps manufacturers scale as needed for production. Shelter services also include processing payroll, saving fund management, and risk and compliance regulations, in addition to accounting, taxes, and legal and trade compliance.
Manufacturing in Mexico is made easier with the guidance of industry experts, and IVEMSA is here to make the transition seamless. For more information about how our shelter operation can help you with your production needs, contact us today.