3PL Providers in Mexico Are Growing Quickly: Here Is How They Do It
11.23.21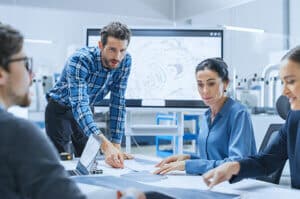 Third-party logistics providers, or 3PLs, are used by manufacturers that want to outsource part of their distribution. Though U.S. companies have typically relied on China for their fulfillment needs, more are turning to manufacturing options in Mexico instead. Some take the approach of outsourcing alone, while others prefer a comprehensive solution.
Regardless of if a foreign company requires a 3PL provider or Mexico shelter services to help their operations run smoothly, Mexico offers advantages that have spurred the growth of activity at an impressive rate. Here are three key reasons why.
#1: Free Trade Agreements
3PL providers can take advantage of USMCA incentives, as well as the 12 other free trade agreements Mexico has with 50 other countries. There are fewer tariff restrictions when compared with China and lower freight and shipping costs for many global manufacturers.
Furthermore, with many of the industry's main sectors, including automotive and aerospace, increasing their intellectual property output, having the additional protection through these agreements also makes companies feel more secure in Mexico than in China where IP protection has always been a challenge.
#2: Advancements in Technology
In order to stay competitive and agile, the Mexican government has invested in emerging technologies that benefit 3PL providers to help them meet rising customer demand. These include inventory management, delivery tracking, and other innovative solutions to streamline logistics services to keep productivity and costs low.
Additionally, Mexico received a $100 million foreign investment last year from Amazon. The goal of the new fulfillment warehouses in Mexico was built to help businesses ship products faster at lower costs, which increases the need for 3PL providers.
#3: Adaptability to Meet Customer Demand
Lastly, the growth of 3PLs is occurring globally as consumer demand experiences rapid growth as well. With the expectations for fast delivery and seamless customer experiences, optimizing logistics is necessary for any business to stay competitive with the changing landscape. However, the proximity between the U.S. and Mexico serves as an extra advantage, allowing U.S. customers to be reached in a more time-efficient and cost-effective way.
3PL or Mexico Shelter Services?
Working with a 3PL provider is a valuable solution for manufacturers that need help with their logistics strategy. However, outsourcing fulfillment services put companies at risk of losing full control over the distribution process. As an alternative, manufacturers can get help with their supply chain and also work with a Mexico shelter company that offers complete administrative and compliance services.
Mexico shelter services include all of the administrative tasks necessary to get a new foreign manufacturing operation up and running. This includes HR, accounting, taxes, payroll, and other areas necessary to start a new business. Rather than outsource each of these roles separately, a shelter company houses them all in one place, which saves time, money, and resources.
Our goal at IVEMSA is to guide you to the best solution for your company. A 3PL solution may be the answer for some, while others may benefit most from a full shelter service solution. Let's talk about your project and see how we can best assist. Contact our experts today.
Source:
https://www.reuters.com/article/ctech-us-amazon-mexico-idCAKBN2770G2-OCATC