International Trade & Tariffs Effects on Shelter Manufacturers
10.23.19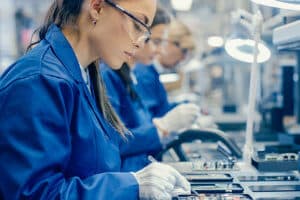 As the trade war wages on between the U.S. and China, American manufacturers are exploring their options and looking for viable ways to continue operating facilities at a lower production cost sans tariffs. Mexico shelter services have become a more highly considered opportunity, thanks in part to the country's close proximity, cost-effectiveness, and NAFTA participation. Companies that are thinking about moving facilities from China to Mexico will want to sit down with IVEMSA's trade compliance department and discuss possibilities.
Determine Product Origin
There are no quick fixes for transitioning from one country to the next. To change the origin of an item, it's necessary to consider the materials being used. For example, if you have Chinese television components and assemble them in Mexico, this doesn't qualify it as a Mexican-made TV. Trying to skirt around specifications and implementing minimum transformation of products won't work to avoid tariffs. IVEMSA offers a free analysis of a company's materials to determine if its final products can be considered "made in Mexico."
How to Meet Trade Requirements
In order for a Mexico shelter company to help manufacturers meet trade requirements, companies must disclose:
what they want to build
identify the classification
determine which percentage of their products and/or equipment will be considered NAFTA-approved components.
Many companies attempt to navigate through this on their own and fail to perform a thorough review, which could lead to a substantial fine or in some cases, a complete IMMEX/maquiladora program shutdown.
A shelter services company handles coordination and communication with customs, which greatly reduces the chance of mistakes being made. There's a classification for every item, which means all materials must have a clear description and code to enter into the customs log. It can be a lengthy process and requires accuracy and efficiency to keep things moving on schedule.
Finding Stability with a Mexico Shelter Company
Since NAFTA has been in place for years, Mexico is a more relevant and stable player for the future of U.S. manufacturing, especially when compared to China. In the short-term, if there is U.S. production happening in China, companies will likely suffer and there's no clear answer for if or when this will improve in the future. With the news of international trade shifting increased interest toward Mexico, shelter manufacturers are helping U.S. companies review all options.
Additionally, for companies that haven't yet expanded outside of the U.S., now is the time to explore Mexico as a cost-effective tactic. By operating under a Mexico shelter services provider, manufacturers can save on employee labor, permit and license fees, income tax, and VAT payments at customs. A shelter services company also obtains permits, handles border logistics and inventory, and prepare customs documentation, among other trade compliance requirements and services.
Amidst how trade relations may continue to change between China and the U.S., Mexico is a strong option for any U.S. manufacturer that wants to expand its operations, save on costs, and remain close to their central markets.
For more information about the advantages of IVEMSA's shelter services in Mexico, call for a consultation today.