Tips to Build a Seamless Supply Chain When Nearshoring
10.04.18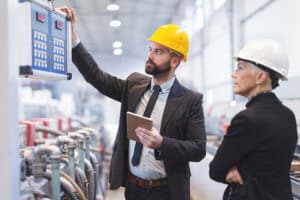 Anytime you move your operations to another country, whether it's offshoring to Asia or nearshoring to Mexico, you'll likely spend a lot of time working out the logistics of your supply chain.
Many Asian countries, like China, have robust supplier networks and the infrastructure to support them in place. That, coupled with lengthy shipping times to get materials from the US across the Pacific and import duties, means it's necessary to build a supply chain within the country when offshoring.
When nearshoring, however, you have other options.
Most of our clients continue to use their US-based suppliers when they establish operations in Mexico. This is possible for two main reasons: one, shipping times are dramatically affected when shipping to Mexico. Two, Mexico's IMMEX/maquiladora program allows US and other foreign companies to avoid the 16% value-added tax (VAT) on raw goods, materials, and equipment that will be used to manufacture goods for export.
It's less common for our clients to build a supply chain in Mexico, but they may choose to source consumables—packaging, labels, and some tools and equipment—locally. Depending on the nature of your processes and equipment, maintenance can also often be performed by local vendors. This is partly because the supplier network in Mexico isn't yet as robust as in Asian countries, though in some industries and locations—the medical device industry in Tijuana and Baja California, for example—it is growing.
Importing Raw Goods and Materials
If you decide to import raw goods from your US suppliers, you'll need to work closely with your shelter provider's trade compliance department (and your US-based trade compliance expert, if you have one). There are certain materials (like steel, aluminum, and textiles) that are still subject to import duties or other regulations, and those require additional paperwork to be imported.
When you work with a shelter provider like IVEMSA, you'll be required to provide complete descriptions of all the products you plan to manufacture in Mexico, along with complete lists of all the raw goods and materials you'll use. We need to define their origin in order to determine compliance with NAFTA regulations and provide a complete duty-impact analysis before you establish your manufacturing facility in Mexico. We also frequently visit our clients' US facilities to inspect the equipment they plan to move to Mexico.
Virtual Import
If you do end up building your supply chain in Mexico, there is a distinction between sourcing from Mexican-owned companies and foreign-owned companies operating in Mexico. Your shelter provider's trade compliance team should advise you on how to handle each scenario.
In the case of sourcing from foreign-owned companies, you will be doing what's known as a "virtual import," where even though the materials and goods are simply transported within Mexico, the entire transaction will take place in the US—keeping you outside of Mexican tax regulations. It's a very straightforward and seamless process, but it needs to be documented properly. This is likely to become more common as more Tier 1 and Tier 2 suppliers move operations to Mexico.