Why Mexico Manufacturing May Be the Answer to the Industrial Labor Shortage
08.29.22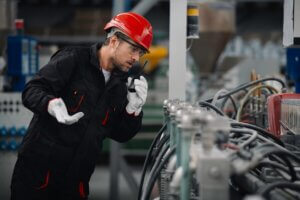 Recruiting for technically-savvy talent is one of the biggest undertakings manufacturers are facing today. It's projected that 2.1 million jobs will go unfulfilled by 2030 due to the manufacturing skills gap in the U.S., resulting in a potential cost of $1 trillion USD.
When the pandemic first began, there had been an uptick in available manufacturing jobs in the U.S. However, with high numbers of voluntary resignations and more opportunities for remote work and flexible schedules, employees are seeking opportunities elsewhere. Additionally, the long-held industry perception of long hours for low-pay manufacturing roles isn't enticing to the younger generation entering the workforce, leaving an empty space left by baby boomers entering retirement.
Therefore, U.S. and other foreign operators are turning their attention to Mexico manufacturing to secure cost-effective labor from a competitive pool of talent.
Strong Pool of Skilled, Cost-Effective Laborers
Manufacturing in Mexico has remained relatively stable, especially compared to pandemic-induced shutdowns experienced in the U.S., China, and other parts of the globe. Mexico has continuously dedicated time, money, and resources to build up and maintain a strong pool of industrial talent year after year and graduates over 110,000 engineers annually.
Furthermore, the cost of living and labor rates for manufacturing in Mexico are significantly lower than in the U.S. Fully burdened wages in Mexico equal $4.58 USD per hour compared to $22 per hour in the U.S. The lower wages present a cost-effective advantage for foreign manufacturers, while at the same time allowing workers in Mexico to be compensated appropriately.
Manufacturers can source the spectrum of roles, from assembly line employees to senior-level roles depending on their project needs. However, with such a competitive workforce in place, it's beneficial to work with a shelter operator to handle all recruiting and hiring responsibilities.
There are labor law differences and strategies experts in the field can help with to secure the best employees for the available roles. Though there is a higher rate of worker availability, companies must still be ready to meet growing employee expectations.
Workforce Location Close to the U.S.
In addition to a skilled workforce, manufacturing in Mexico also saves U.S. operators on freight costs and delivery times, which add significant value to the entire operations process. And, with Mexico being in such close proximity to the U.S., it's also relatively easy to make site visits for employee oversight and to maintain production quality assurance.
Matching the right skill set to the available roles can be a challenge, but IVEMSA has the expertise and experience to find individuals qualified to fulfill project requirements. In addition to recruiting and hiring, a shelter provider helps manufacturers scale as production needs change and retain the industrial labor necessary to support business goals.
Want to learn more about how manufacturing in Mexico may benefit your company? Contact IVEMSA today.
Sources:
https://www.nam.org/2-1-million-manufacturing-jobs-could-go-unfilled-by-2030-13743/