Mexico Labor Rates Aren't the Main Draw for U.S. Manufacturers
12.26.21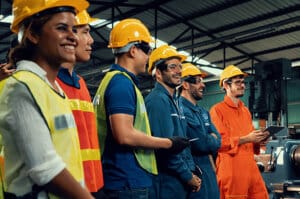 Labor rates in Mexico have been a longstanding benefit for U.S. and other foreign manufacturers. However, they aren't the only draw attracting investment in the region. In light of the current shortage in America to hire and retain workers, particularly in the industrial sector, the availability of skilled workers in Mexico is now one of the main advantages.
Additionally, cost savings in other areas, including logistics, is another benefit overshadowing the low cost of labor. Plus, the USMCA provisions benefiting North American manufacturers round out the top three factors which are motivating companies today. Though industrial labor rates in Mexico are still lower than those in the U.S. and China and will always be one of the top benefits, it's important to expand on the other advantages that support Mexico manufacturing as a strategic move.
1.   Availability of Industrial Skilled Workers
As the U.S. faces increasing challenges finding and retaining employees, the manufacturing industry continues to be the number one employer in Mexico. Tens of thousands of engineers enter the workforce every year, and Mexico is continually invested in advanced education and training.
Furthermore, U.S. and other foreign manufacturers have the advantage of partnering with a shelter company to recruit and retain top employees. A shelter company has the connections, market intelligence, and experience to fulfill industrial roles quickly and effectively, while also calculating which benefits will retain the best workers and keep companies competitive.
2.   Cost-Effective Logistics
A second main draw for U.S. companies manufacturing in Mexico is favorable logistics. When compared to China, manufacturers can save significantly on both time and costs. For example, a truck crossing the U.S./Mexico border, from Tijuana to San Diego, California, costs approximately $220-$230 and can meet same-day delivery. Whereas, a tank coming from China can be delayed in the seaport for weeks and cost upwards of $10K.
With the latter, there are also fluctuating, freight and port costs to consider, as well as fees paid for overtime workers, plus the delay of goods to market. Essentially, the total logistics of manufacturing with China is complicated and there's no certainty it will ever stabilize. Regardless, the close proximity between the U.S. and Mexico remains a competitive benefit in terms of supply chain reliability, quicker timelines, and lower overall logistics costs.
3.   USMCA Rules of Origin
The third main draw for U.S. companies manufacturing to Mexico is the USMCA's Rules of Origin and Origin Procedures, which are in place to create "more balanced, reciprocal trade" for North American economies. The newest free trade agreement between the U.S., Mexico, and Canada exceeds the previous standards of NAFTA and Trans-Pacific Partnership by updating key references, such as maintaining duty-free treatment for origins goods, in addition to prohibiting export duties, taxes, and other charges and waiving specific customs processing fees.
The USMCA is increasing the stability of the supply chain and beneficial exchange of resources between the three countries. Whereas, U.S. trade with China remains uncertain with regards to wavering shipping costs, retaliatory tariffs, and other challenges and delays. Furthermore, manufacturers can also benefit from Mexico's IMMEX maquiladora program tax benefits. The IMMEX maquiladora program in Mexico honors 16% VAT savings on temporarily imported goods that are part of the manufacturing process, which U.S. companies can benefit from starting on the first day of operations when working under a shelter.
Benefiting from Labor Rates and Other Cost Savings
Cost-effective labor rates in Mexico continue to be a prime benefit for U.S. manufacturers. When combined with the other cost savings Mexico manufacturing offers, it becomes clear why U.S. companies are reinvesting and/or expanding their operations closer to home.
Source:
https://ustr.gov/trade-agreements/free-trade-agreements/united-states-mexico-canada-agreement/fact-sheets/rebalancing