Mexico Exceeds Economists Expectations – 3rd Quarter Economy Climbs
12.15.15
Economic activity in Mexico continued to accelerate in the third quarter, reflecting significant positive effects from structural reforms in areas including energy and the financial sector.  The national statistics institute reported gross domestic product rose 2.6 %, compared with 2.4% that had been forecast by economists.  In an annual assessment of Mexico's economy, the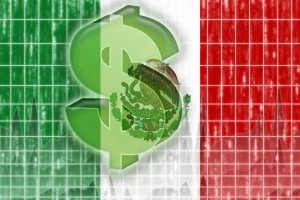 International Monetary Fund(IMF) says growth in the next 5-10 years should strengthen even further.
Dora Iakova, Mission Chief to Mexico at IMF, points out the reforms Mexico is undertaking will continue to raise the country's economic growth while making increased private investments more attractive. The financial reforms have specifically helped with core competition in the banking sector and brought increased credit growth.
Fostering the development of healthy credit also delivers financial opportunities to the wider population.  Banco de Mexico Governor, Agustin Carstens feels the Mexican economy should see more vigorous growth going ahead and said, "Faster expansion in retail sales and consumer credit helped fuel growth in the third quarter.
The national statistics institute reported retail sales advanced 6.4%, the fastest pace growth in more than three years.  Alfredo Thorne, an economist that runs the investment advisory firm Thorne & Associates said, "We're seeing strong consumer spending, which will continue, and we think manufacturing activity is set to improve."