How to Keep Costs Low
10.26.16
Employee Engagement and Retention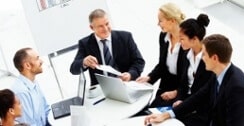 A major incentive for operating in Mexico is reducing costs. The biggest way to do that is by making sure you can retain by engaging your employees. With employee turnover costing companies up to $11billion annually, keeping an engaged staff that is invested in the company, and their future, can create significant savings in your bottom line.

Management: Cascade Effect
Employee retention is directly linked to employee engagement. Employees, and managers, typically fall into three categories of engagement. These include:
Actively Engaged
Not Engaged
Actively Disengaged
A surprising number of employees fall into the last category. According to a Gallup poll, Actively Disengaged Employees make up about 52% of the workforce while Actively Engaged Employees only make up about 31%. Actively disengaged employees have a severe impact on your company culture and productivity.
Employee engagement starts at an executive level and has a cascade effect on your employees. Hiring and retaining engaged managers will encourage employees to be more engaged. Employees who work with disengaged, uninterested, and unmotivated managers are more likely to follow their manager's example in the workplace. Managers should motivate your workforce to increase productivity and engagement through their example.
"Employees managed by highly engaged managers tend to be 60% more likely to become engaged than those supervised by actively disengaged managers"-Richard Richie,
Engaged managers inspire engaged employees. Does this level of engagement reflect your company's management style? Could you do more to promote a culture of employee and management engagement?

The Importance of Training
Employee training is vital in employee retention. Not only will trained employees be more knowledgeable in company policy and procedures, but they will feel more valued as an employee. Employees and managers that envision a future career path are more likely to be engaged. When an employee has a high perceived value, he or she is more likely to stay loyal to a company. Loyal employees will reduce turnover and increase profitability.

IVEMSA- Human Resource Management
The Human Resource Team at Ivemsa are experts in assisting companies with screening, recruiting, and retaining top-notch talent.  In addition to offering ongoing human resource supervision services, they work with you to develop and implement training, create incentive programs to enhance productivity and increase retention.
Please come back soon for more in our own going series on Human Resource Management.  You may also visit us to read more about the HR Services at Ivemsa.