Ford Motor Company to Spend $1 Billion on Facilities in Mexico
02.08.16
Move over Toyota Prius! Seems Ford is putting petal to the metal on production of a hybrid vehicle of their own. Geared to be the Prius rival, Ford is spending over $1 billion on a new plant in San Luis Potosí and expanding their existing facility in Hermosillo to make it all happen.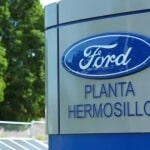 Speculation has been swirling in industry circles for weeks about the plan, including statements made by Mexico's economy minister, Ildefonso Guajardo, who said, there would be several significant auto investments announced in the first quarter involving plants and new models.  On February 8th, the WSJ released an article confirming all things point to "Yes." Ford is expected to make an official announcement in the coming days.
According to people that know details of the plan, construction will begin later this year and by 2018 the new facilities will allow Ford to add 500,000 units, more than double what it built in 2015.  Last year Ford built 433,000 vehicles in Mexico, 14% of its North American production.
The allure of doing business in Mexico comes in many forms, including a cache of free trade deals, lower operational costs, and improved logistics. But perhaps the most enticing is that of labor costs. Both China and the U.S. have felt the effects, as the comparisons are too significant to dismiss.
As previously reported, Forbes quoted that "Average manufacturing labor costs in Mexico are now nearly 20% lower than in China."   And, in the US after the United Auto Workers (UAW) new deal was penned in November of 2015, wages will climb to nearly $30 an hour in coming years.  Labor rates in Mexico are approximately one-fifth that of the UAW.
In recent years, major global players in auto production including BMW, Daimler (Mercedes),Volkswagen, Toyota, and Honda have opened factories in Mexico.  South Korea just jumped on the bandwagon announcing they too will open an assembly plant for KIA Motors Co. in Mexico later this year.
LMC Automotive, providing global sales and production forecasts to the automotive industry for more than twenty years, expects the U.S. share of production to fall while Mexican production grows 53% to 5.2 million vehicles by 2019.