Financial Transparency with Mexico Accounting Administration
08.14.17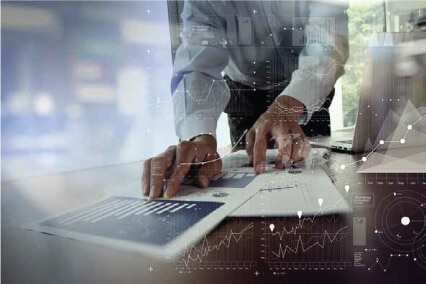 Businesses are constantly faced with collecting and making
sense of their data. Is it easy for your business to account
for purchases, transactions, and invoices? If it takes a long
time to track and report on these metrics, it may be time to
consider outsourcing your accounting efforts.
Accounting administration in Mexico provides
accountability and transparency to your financial
management and reporting. Using an online system, an
experienced team of accountants in Mexico can monitor
your finances on a 24/7 basis. We cover how accounting
administration in Mexico can help your company be
financially transparent.
Track and Approve Purchases Using an Online System
Online systems are a popular method for businesses in Mexico to manage their purchases in a single location. In fact, an estimated 95 percent of businesses in Latin America utilize an electronic system to handle their accounting and invoicing documents. Using a single online system is convenient and accessible because companies can track their purchases outside of the office. Also, using an online system improves reduces the chance for human errors on physical purchase forms.
Process and Archive Historical Transactions and Invoices
Having an archive of your company's transactions creates a clear record that people can look back on. This gives you transparency into electronic transactions by their exact date and time. An archive also makes it easy to search and account for transactions quickly. Also, you can stop worrying about when you'll receive your supplier's invoices. Instead of waiting around for invoices, you can access an online system thatv downloads and processes invoices automatically. Accessing your supplier's invoices allows you to keep track of your expenditures.
Generate Detailed Reports on Transactions and Invoices
Data drives decisions in financial and operational management. But, creating detailed reports is timeconsuming and takes you away from other important responsibilities. Mexico accounting enables you to easily generate data reports using an online system. You can customize fields on your reports to track purchases, transactions, invoices, or other metrics. Reporting on your actual data provides transparency into your company's operations and activities.
Share Information with Other Decision-Makers
Financial transparency also means being able to share information freely with other decision-makers at your business. With a single online system to store your business's data, you can easily share information with other qualified employees. Sharing information keeps all involved parties informed about your company's activities.
Moving your accounting administration efforts to Mexico can help your business become financially transparent. Let's quickly review the different ways that you can help your company be financially transparent.
What We Learned
Accounting administration in Mexico uses an online system to manage transactions, purchases, and invoices. This system is accessible and makes it easy to generate data reports and share information with others in your company.
To start making your finances more transparent, you can look deeper into how administrative support in Mexico cuts accounting and HR costs. Find out more about how accounting administration adds value to your business at a low cost.