Understanding the Basics of How Customs Compliance in Mexico Works
10.18.19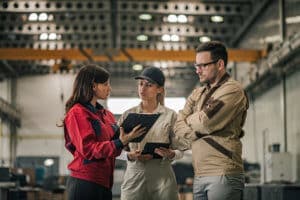 U.S. manufacturers that operate part of their production in Mexico find understanding customs compliance to be one of the most challenging parts of the process. Working with an experienced shelter services provider eases the burden and makes handling customs far less stressful and time consuming.
A key part of Mexico shelter services is to ensure all materials and products being imported are accurately listed and processed without delay at customs. There are several Mexican agencies and requirements involved to meet legal and tax compliance. These include:
The Mexican Tax Administration Service (specifically, General Administration of Customs, General Legal Administration, and General Administration of Foreign Trade Audit)
Ministry of National Defense – Approves permits for imports and exports and inspects goods during the customs compliance process
Ministry of Finance and Public Credit – Clears a business importing and exporting goods out of the customs area into the country's Registry of Importers and Exporters
Secretariat of Environment and Natural Resources – Inspects imports per PROFEPA, the agency in Mexico responsible for environment protection
Economy Secretariat – Authorizes permits for imports and experts and issues quotas on goods
Secretariat of Energy – Issues permits required for customs clearance of fuels and radioactive materials
This is only a partial list of the departments that foreign companies can expect to work with when manufacturing in Mexico. Each organization requires specific permits, certifications, and/or inspections for materials being imported and exported. Without the proper knowledge or expertise, it's easy to make mistakes and face production delays.
There are several moving parts that need to be handled to achieve and maintain compliance with customs in Mexico. A shelter services provider takes on the responsibility of submitting the proper documents and working with customs officials to create a smooth and efficient process.
What to Expect During Customs Clearance Inspections
Each item imported into Mexico requires a product description. This catalog of items must then be organized and submitted to Mexican Customs through a Mexican customs broker and an automated selection mechanism is activated. If a second inspection is required, the customs authority conducts a thorough review of items intended for import or export. This physical inspection can be carried out at the border, the interior of the country, or maritime ports.
There are several reasons why customs clearance may be delayed and a company could be fined. If there are discrepancies between the import list and the contents of the shipment, misclassification of goods, or incomplete certificates or incorrect documentation of any kind, this can cause issues at customs. Any delayed activity pushes a production timeline and can end up being costly to the manufacturer.
Manufacturing in Mexico is a learning curve for many. It takes time to become familiar with what's allowed, restricted, and expected in terms of trade relations. Even the smallest detail can derail a project, which adds extra pressure and stress on companies that are eager to get started. There's a far greater chance of second inspection and delays when manufacturers choose not to work with a shelter company.
For information about how working with a Mexico shelter services provider streamlines customs compliance and other areas of operational setup, contact IVEMSA today.