Baja California Takes Farnborough by Storm
07.18.14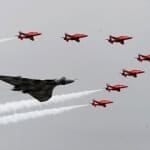 Representatives from the governor of  Baja California along with people from the Economic Development Commissions of the cities of Tijuana and Mexicali are in force at this week's giant international airshow in Farnborough, England. Here are some hot news updates from the team on the ground:
Highlights: MIKE McCann, CEO for GKN Aerospace  formally announced about their expansion plans in Mexicali for both division GKN CHEMTRONICS ( MACHINNING)  and GKN COMPOSITES. This means more jobs for Mexicali.
Meeting with UNI-POL in Southhampton: Supplier for Honeywell Automotive in Mexicali. Mexicali EDC has been working closely with the company during the last 6 months assisting them by consulting in a variety of areas including Import- Export, Finance, Infrastructure, and recruitment through its membership. UNIPOL will start production 3Q 2014 and will generate + 150 local jobs.  
NEW INVESTMENTS FOR MEXICALI:  Meeting with a British company specialized in offering Special processing and NDT for aerospace structures. The company will visit Mexicali in a couple of weeks to evaluate possible business opportunities in the region.