Axalta Launches High-Tech Production Facility in Mexico
04.20.16
Axalta Coating Systems, celebrating its 150th anniversary, a leading global supplier of liquid and powder coatings, has just begun production at its new high-tech resin manufacturing facility located in Tlalnepantla outside Mexico City.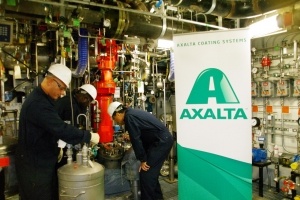 The company develops, manufactures, and sells performance and transportation coatings all around the world.  With 36 manufacturing facilities, 4 global technology centers, and doing business in more than 130 countries, their customers' range from small family owned businesses to global original equipment manufacturers (OEMs).
Chairman and CEO of Axalta, Charlie Shaver, spoke at the opening ceremonies and said, "Today we celebrate Axalta's continued commitment to Mexico and the story of our company's growth here that began 64 years ago."
In their efforts to reduce the environmental impact of coatings production, Axalta designated the Tlalnepantla facility as an "Industria Limpia" ("Clean Industry). The entire project, from conception to completion, that utilized only local talent and resources, took just 14 months, came in on budget and on time.
"The opening of this facility reflects the extensive operations and technology expertise based in Mexico that we were able to draw on to design and construct a production complex which joins what is already a world-class production facility and one of our largest operations centers in the world. Our investment in this facility will enable us to support our customers with the latest coating technology and reflects our long-term confidence in both the future of Mexico and our expectations for continued growth across the region," Shaver continued.
"The State of Mexico plays a key role in the economic development of the nation and we highly appreciate that global companies like Axalta have consistently placed their trust in the State to expand its economic and industrial infrastructure," explained Ms. Laura Teresa Gonzalez Hernandez, Undersecretary of Economic Development of the Government of the State of Mexico.