An Industrial Location both Charming and Peaceful
07.09.14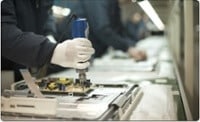 Mexico is well known as a major global hub of nearshore industrial activity. The border cities, as well as central Mexico, are long established foreign manufacturing centers. Less known, although on a fast track to change that, is the charming port city of Ensenada, Mexico. Just an hour south of San Diego, this beautiful harbor has all the advantages of proximity to the United States, with the charm of a quiet coastal city.
Long known as a tourist destination with a delightful fish market and open air cafes, Ensenada's crime rate is lower than most major U.S. cities. Yet, at the core of this peaceful location are over 200 manufacturing operations from maquiladoras to local operations, representing a variety of industries including aerospace, medical devices, electronics, metal mechanics, automotive and more.
The reasons for the surge of interest in Ensenada as a manufacturing choice are myriad. In addition to the low crime rate, the area has a lower than average labor turn over, with an ample pool of well-educated employees to draw from. The port is a modern deep water harbor with connections to 64 other harbors in 28 countries around the world, as well as same day access to air freight. And all of the services required for a manufacturing operation are available: customs agents, freight forwarders, legal, and more.
Shelter company services are also available in Ensenada. In fact the well known shelter company IVEMSA provides services to their client Wunder-Bar, with upwards of 100 employees. As well, they recently solidified an alliance with SIMSA Group, the operators of the Esmeralda Industrial Park, one of Ensenada's most prestigious business parks.
In the words of Roberto Durazo, Director of the local Economic Development chapter, "Ensenada has all of the facilities of a big city with a small city atmosphere. People come here to enjoy the boating, fishing and surrounding wine country, and they are staying to take advantage of the low cost, stable labor and first class industrial parks in the area. Ensenada is a hidden manufacturing jewel."
Manufacturers looking at Mexico as a location to extend their operations would do well to take a close look at Ensenada. For more information, please contact Roberto Durazo at +646 153 20 38 or rdurazo@investinensenada.com.