A Beginner's Guide to Site Selection in Mexico
08.07.17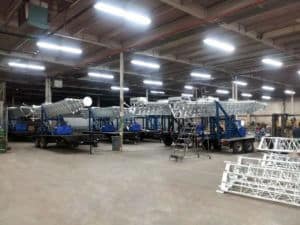 Mexico is becoming a hub for manufacturing. Renowned companies like Fiat Chrysler and General Motors have multi-billion-dollar production plants in Mexico. These companies realize the cost benefits that come with moving manufacturing near-shore.
For a novice company, site selection in Mexico can seem like a daunting task. We teach you industry-recommended advice about location, budget, and transportation about site selection in Mexico. By the end, you'll have a strong background in site selection and the ability to do research independently.
Site Location Depends on Your Products and Your Delivery Times
There are a few steps to site selection in Mexico. The first factor is turnaround time. Businesses with a shorter turnaround time tend to be located closer to the border for faster transportation. Conversely, businesses with longer turnaround times have the flexibility to be located further inland in Mexico.
Also, inventory plays a large role in site selection. A larger inventory requires a larger storage facility. Thus, a manufacturing site that is closer to the border accommodates the large inventory with shorter transportation times. Large and bulky products, such as white goods, are often produced closer to the border for similar storage and transportation reasons.
Your Site Needs to be Accessible and Connected to Major Trade Routes
Setting up operations in Mexico should take into account accessibility and connectivity. First, your site needs to be accessible. This means that your company's executives can visit your manufacturing site easily. Your site should be close to major transportation routes, like highways, railroad, and airports. Accessibility makes checking up on your site convenient.
An effective manufacturing site is connected to major trade routes. These sites make transportation of your company's goods to your markets as quickly as possible. Sites further from the border will have longer delivery times, while sites closer to the border will have shorter delivery times. Prompt product delivery is important to keep your customers happy.
Labor, Real Estate, and Utilities are Your Biggest Budget Costs
Even with the resurgence of Mexico as a manufacturing hub, labor costs have remained low. For example, a typical Mexican manufacturing worker makes $5-6 per hour for skilled labor and $1-2 per hour for unskilled labor in Mexico. Companies often reduce their costs significantly by moving their manufacturing operations to Mexico.
Real estate will likely be your most expensive cost. General Motors and Fiat Chrysler have each invested over $1 billion into their Mexico manufacturing operations. Your company's real estate cost will depend on location, facility size, equipment, utilities, and other factors. Research how you can leverage services like security and transportation inside an industrial park and whether leasing or buying is a more viable financial solution.
There are three main factors to consider when thinking about site selection in Mexico. Let's quickly review these different factors.