5 Benefits of Manufacturing in Mexico
05.24.19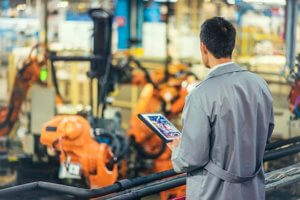 U.S. businesses have reaped the benefits of manufacturing in Mexico for years. Currently, Mexico is the third largest trade partner and second largest export market to the U.S. An increasing number of companies have recognized the success and have moved part of their operations to Mexico or plan to do so in the near future. Among the benefits of this economic relationship are lower costs, closer factory proximity, and access to a workforce that is specially educated and trained for this level of work.
#1: Qualified, Cost-Effective Workforce
The Mexican government has prioritized its investment in education and training. There are higher education institutions where trade skills, design programs, and hands-on experience are part of the curriculum. On average, Mexico graduates 115,000 engineers annually. These skilled workers follow a 48-hour work week, which helps increase production while still delivering top quality. And, many companies automatically save up to 30% when moving operations to Mexico on labor alone due to the difference in hourly wages.
#2: Closer Proximity Than China
Companies that had previously relied on manufacturing in China to handle part of its operational needs now turn to Mexico due to the more favorable geographical proximity to the U.S. It's far easier to travel to facilities south of the border versus a flight that requires nearly a full day of travel.
Time differences are also more conducive to business when manufacturing in Mexico versus China. For example, when it's 8:00 AM in Detroit, MI, it's 8:00 PM in Shanghai. That means any urgent communication must take place outside of regular business hours or wait until the next day. Typically, U.S. companies communicate with their Mexico factories on the same or similar work schedule.
#3: Protection of Intellectual Property
One of the main industries that manufacture in Mexico is electronics companies, including Samsung and LG. Since the process often contains highly sensitive materials, it's important for companies to know their intellectual property, such as trademarks, are protected. The country's IP laws are similar to those enforced by the U.S. and Canada. Whereas, Chinese entities are responsible for between $225-$600 billion annually on intellectual property theft experienced by U.S. companies.
Read more: Understanding Intellectual Property Protection in Mexico
#4: Minimized Risks
Manufacturing in Mexico means little to no risk, especially when under the guidance of a shelter company. Shelter services include maintaining all permits, licenses and ensuring a company is compliant with Mexican laws. This allows U.S. businesses to "set up shop" without the need to create a Mexican entity. Companies still maintain control of the business in Mexico and oversee factory production. The shelter company does the rest such as site selection, provide a legal presence, and handle all administrative tasks.
#5: High Quality and On-Time Delivery
Mexico manufacturing is known for the production of high-quality goods in several technical industries, such as automotive, aerospace, and medical devices. Large corporations continue to invest millions of dollars into their facilities to stay competitive with their supply chain. It's far easier to check on the quality of production first-hand since Mexico is closer than China. As an example, finished goods from a Mexico border city could take 4 to 8 hours to reach the U.S. after leaving your plant in Mexico; from China, it could take nearly three weeks to arrive.
U.S. companies reap benefits in multiple ways when manufacturing in Mexico. This is secured when they partner with a shelter company with decades of experience that knows the ins and outs of what it takes to efficiently and effectively start operations for foreign companies.
To learn more about the advantages that shelter services provide to U.S. companies, contact IVEMSA today for a consultation.