Manufacturing in Mexico Benefits the U.S. as Trade War with China Continues
06.24.19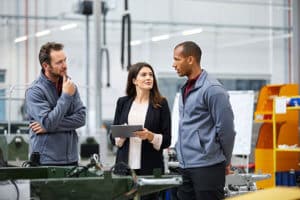 As the trade war continues between the U.S. and China, companies are considering alternative countries, including Mexico, as options for their manufacturing operations. As of early May, the Trump administration raised tariffs from 10 percent to 25 percent on $200 billion in Chinese exports. In response, China raised tariffs on $60 billion in U.S. goods. The U.S. is also considering an additional tariff increase to 25 percent for an additional $325 billion in Chinese goods. Despite the looming threat to the global economy, the two countries continue struggling to reach an agreement.
This back-and-forth uncertainty and escalating tariffs have many companies looking south of the border for help. For many major industries, Mexico has already been a strategic answer for manufacturers that want to improve their supply chain and benefit from lower production costs. In addition to being a cost-effective solution, the close proximity of Mexico to the U.S. is a considerable advantage over China as well. Expansion across the border versus the other side of the world makes manufacturing in Mexico more accessible for all. It allows company leaders to more easily travel to their facilities and oversee training, quality assurance, and the management of day-to-day operations.
Read more: What Makes Mexican Manufacturing a Viable Option for US Firms?
U.S. and China Trade Disputes Cause Companies to Shift Operations to Mexico
Mexico has been long-established as a central location for manufacturing activity for U.S. companies thanks to the North American Free Trade Agreement (NAFTA). In addition to the main industries of aerospace, automotive, and medical device companies, other companies have also sought a switch in operations by looking to Mexico for manufacturing. For example, big manufacturers including GoPro, Hasbro, and Universal Electronics have shifted their operations to Mexico due to the trade conflict between the U.S. and China. These companies represent only a handful of businesses that have recently turned to Mexico for their manufacturing needs.
As the trade war with China continues to escalate, Mexico remains a viable opportunity for companies that are beginning to consider their alternatives. With the aid of an experienced shelter partner, setting up manufacturing in Mexico could happen within months to create a more seamless transition and minimal disruption. This opportunity has proven to be a solid business strategy for companies over decades that have benefited from positive trade relations between the two countries.
In addition to the relief from rising tariffs, companies also have the advantage of reduced shipping and labor costs compared to manufacturing in China. Mexico is also competitive in regards to facility real estate and workforce wages. While many companies choose areas right across the border for their operations, there are regions throughout Mexico that often make more workforce availability. Manufacturers also benefit from a skilled workforce that has specific training in these industries. Working with a Mexico shelter company gives manufacturers the resources they need to set up operations effectively and efficiently.
To learn more about the benefits of manufacturing in Mexico by partnering with an experienced shelter company, contact us today.